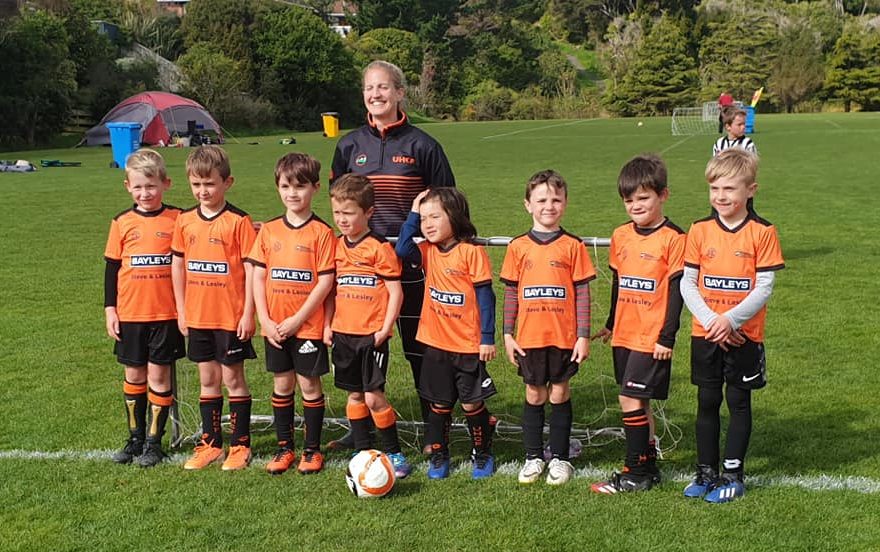 When 
The season runs from weekend of 29 April 2023 to 2 September 2023, 8am-9am on Saturday mornings.
Where
Artificial football turf at Maidstone Park, Park Road (opposite Parapine ITM).
Festival days happen every three or four weeks on Saturday mornings.  These events, organised by Capital Football, are where we travel to another Hutt Valley turf (e.g. Fraser Park or Petone) to play other teams from other clubs.
What

The first part of each session is made up of warm-up skill sessions that focus on each training area including general movement, football coordination and football technique.
Then we play small-sided games between teams within the grade. We follow the New Zealand Football Junior Framework that encourages a variety of skill development and is all about building the foundation for future years. You'll see us using laminated games' guides from the framework each Saturday.
Teams

Teams of around seven are usually grouped with players from the same schools and/or area. Small-sided games are either between four or five players on each side. When registering you can tell us if there are other kids your player would like to have as team-mates and we will try our best to accommodate those requests.
Register your player

Junior and Youth Registration Form
If, when you try to register, there are no teams available for your age group, this means we have met our allocation for the age group and registrations are now closed. You are however, welcome to add your child's name to a waiting list, and we'll let you know if spaces become available.
If you have any registration queries, please contact Noel Raggett, Junior Captain, juniors@upperhuttcityfootball.org.nz
Registering for Fun Football will cost $110 per player for the season.
Gear

We supply the playing strips (tops or shirts) each morning and collect them back in at the end of the morning.
Players will need shin pads, boots, shorts and socks. While not compulsory, you can choose to purchase official UHCF socks and shorts via footballcentral.co.nz.
Game rules
To ensure each player has as many touches of the ball as possible and young players concentrate on skills that are best suited to their age we play a simplified version.
·        No goalies, offsides, corners.
·        Kick/dribble in instead of throw-ins.
·        Attacking team returns to halfway for a goal kick.
Tournaments
There are a few tournaments throughout the season where we put forward teams from each grade. Tournaments are generally played on Sundays during the season and maybe a Saturday or Sunday when the season ends. Ask your coach or grade manager for more info.
Parent coaches

We have a number of parents volunteer each season to act as coaches to look after a team throughout the season – and we're always to keen to find some more. The role is far more about children than football. There's a ready-made toolkit to work with and we always love coaches who are keen to let the kids' imagination go crazy.
If you're keen to help on the field or with helping to keep things running smoothly on a Saturday please get in contact with the Junior Captain, Noel Raggett, juniors@upperhuttcityfootball.org.nz 
Dispensations
From 2022 Capital Football has expanded the scope for age-based dispensations by allowing more flexibility for clubs to allow kids play up or down ½ a grade based on a number of factors. If you are considering applying for a dispensation for your child, please contact your grade manager in the first instance.
Cancellations
We play in all weather. The turf allows us to. The rule of thumb is we'll always play-on and if it's particularly bad then we'll call it off. Otherwise, expect to get an email before 7:15am. Cancellations will also be posted on our grade Facebook groups as below.
Latest news

Join our grade Facebook group pages and stay up with the latest on our club Facebook page.
U7 Facebook Group (2023 season)
U8 Facebook Group (2023 season)
Like to know more?
If there's anything else you'd like to know, please get in touch.