Girls' Development Squad – our history
The Upper Hutt City Football Girls' Development Squad (GDS) was established in 2009 to help young girls (11-13 year olds) keen to improve their football skills in an all-female environment.  The focus was on skills' development and building confidence within a peer group, rather than competing against sometimes physically stronger players in mixed gender squads.
The GDS grew rapidly, attracting female players from all over the Wellington region, ranging in age from 8 to 17.  These female footballers have thrived in an environment catering specifically to girls' development with a significant proportion of the girls included in New Zealand Football Regional and National Talent Centres.
In past years the GDS held regular girls only training sessions over the winter season, hosted an annual BNZ/GDS pre-season Kick-It Tournament, sent all-girls' teams to tournaments and was one of the leading participants in the inaugural Capital Football Girls' Only Summer Leagues with teams in U8, U10 and U12.
Junior Girls development today
Lorraine Bowring, the driving force behind our Girls Development Squad moved overseas in 2015 and the GDS took a break for a couple of years.  However, we were delighted to welcome Kirsty Windelburn as the new Girls Development Manager in 2017.  One of her first priorities was to relaunch the Girls Development Squad, to inspire and encourage young females to play the game and to provide parents with the information they needed to support their daughter to play the sport.
While there were some changes to the format of the GDS, the vision and aims established in 2009 remain the same:
"identify and nurture motivated female football players by supporting young women through their development pathway from junior football through representative programmes (NZF Talent Centres) and transition into senior women's football and even national (and international) honours!"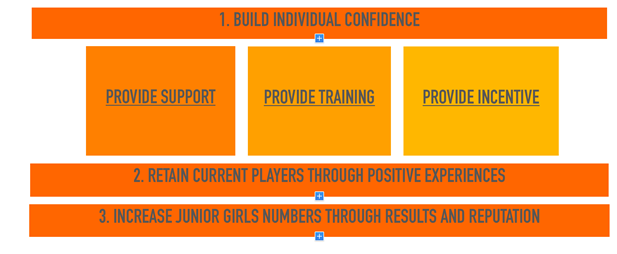 How we are achieving our Aim – 2017 and beyond
We support all-girl teams playing in mixed grade competitions
Encourage girls in mixed grade football
Girls are paired up in mixed grade teams – Minimum of two girls to develop peer support
If a single girl reaches a top team she is supported by the grade manager and a range of support options.
Regular girls only training sessions for all registered junior female players in addition to their mixed grade training
Competing in Girls only tournaments
Coaches who are passionate about supporting girls Football
We interact with the UHCF senior women's team through coaching and ball girl duties
We are also passionate about growing the game of Girls and Women's Football!
Want to know more about opportunities for junior female football players at Upper Hutt City Football?
Contact:
Kirsty Windelburn
Ph: 021 890 066
Email: kirsty@upperhuttcityfootball.org.nz